Updated 28th November 2020
There will be a Zoom Eucharist service this Sunday 29th November at 9:30am.
Please contact Fr. Carl for an invitation
~~~~~~~~~~~~~~~~~~~~~~~~~~~~~~~~~~~~~
>>FROM WEDNESDAY 2ND DECEMBER 2020<<

SUNDAYS
St. John's: 9.45 am Holy Eucharist
St. Luke's: 10.45 am Holy Eucharist
Zoom service at 11:45 for all who want to join in - contact Fr. Carl for an invitation
~~~~~~~~~~~~~~~~~~
Wednesdays – 9.00 am Holy Eucharist at St. John's
~~~~~~~~~~~~~~~~~~~~
Thursdays – 9.30 am Holy Eucharist at St. Catherine's
– 10.00 to 11.00 am Church open for private prayer
Fr. Carl will say Morning Prayer at 8.45 am before the Thursday Eucharist. All are welcome to join him.
~~~~~~~~~~~~~~~~~~~~~~~~~~~~~~~~~~~~~~
- The Eucharist services will be shorter than normal with no singing or sermon
- as with other Covid 19 problems, this may be subject to change, especially when the winter flu season begins.
- Events will be posted on the Website and communicated by phone to those not on-line.
-Fr. Carl's Sermons will be posted on the Website and Facebook.
We provide hand sanitizing and arrange social distancing of 2 metres. Face coverings must be worn which we can provide if needed
-Zoom Holy Eucharist may be held for special occasions; contact Fr. Carl for details.
~~~~~~~~~~~~~~~~~~~~~~~~~~~~~~~~~~~~~~~
>>Please note that tapers cannot be used in church to light candles<<
If you wish to light a candle for private prayer, please use one of the new lighters which have been provided
and which you can take home with you
or bring your own lighter if you can do that please
~~~~~~~~~~~~~~~~~~~~~~~~~~~~~~~~~~~~~~~~~~~~~~~~~~~~~~~~~~~~
We have a lovely report of two special children who did a great thing recently
Carolyn's grandchildren Annabelle and Daniel were moved by the plight of children in undeveloped countries
who had to walk on average 3.7 mile round trip to use a toilet.
They linked up with a charitable organisation "toilet twinning" - LINK
They have done a sponsored walk of just over that distance for this charity.
They aimed to raise £60 which would pay for a toilet, they have raised in excess of £135.
Brandon Parish churches congratulate Annabelle & Daniel on their tremendous effort and achievement
If anyone wants to donate to the toilet twinning charity they can do so on the LINK above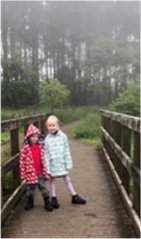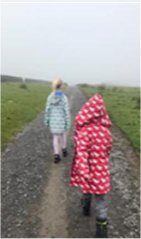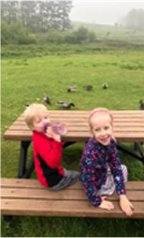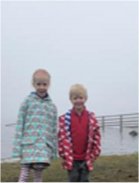 "And the people stayed home. And read books, and listened, and rested, and exercised, and made art, and played games, and learned new ways of being, and were still. And listened more deeply.
Some meditated, some prayed, some danced. Some met their shadows.
And the people began to think differently. And the people healed.
And, in the absence of people living in ignorant, dangerous, mindless, and heartless ways, the earth began to heal.
And when the danger passed, and the people joined together again, they grieved their losses,
and made new choices, and dreamed new images,
and created new ways to live and heal the earth fully, as they had been healed."
- Kitty O'Mara.